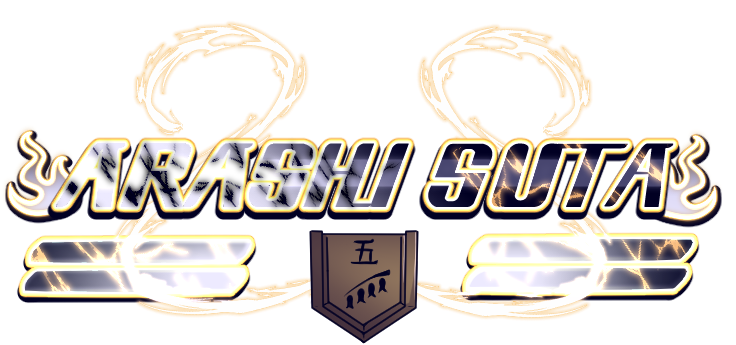 The three stand-alone in the conference room. Away from prying eyes, and lingering ears or so it may seem... Eizoku takes a seat on the floor next to the table and it is likely that Jizakai had done the same, claiming his position among the three. However, Arashi remains standing for now. Whether it is assumed, or he has indeed been appointed to the task, he would be in charge of preparing tea for the three of them through his own choice. He stands at the very counter, with his back towards both Jizaikai and Eizoku, who had already begun his report.
" So, I'm certain you both are aware of my previous altercation with the rather irregular hollow that had been occupying the Dangai after my disappearance. I've finally been able to come to a logical conclusion of how the creature was both able to resist and control the time-altering properties of the Dangai. This substance was scarcely present in the location where the beast had stationed itself, and interestingly enough, was the only portion of the Dangai untouched or altered by the restrictive current and Kototsu. It also holds a lingering aged spiritual pressure, confirming my suspicion that this substance holds the capabilities of resisting or completely nullifying the continuously flowing properties of the Dangai."

" As amazing as this little "discovery" maybe, it also presents an equally terrifying aspect due to the circumstances in which it was discovered. The probability of hollow on its own simply wandering into the Precipice World, coming across this substance, and properly utilizing it to its own advantage would be 0% - impossible. I say this to say, we are not the first ones to make this discovery, I feel like there is already an agenda underway elsewhere. To make matters even worse, the Precipice World is monitored closely on a 24-hour basis, meaning that whoever is overwatch, was more than aware of the existence of both the hollow and this material. It's best to assume that there is a traitor amidst us within the 12th division."
More questions than answers are revealed in this report. Lieutenant Suta listened intently as he prepared and finished all of their beverages. Turning around, three cups were positioned specifically based on their seats, he starts walking towards the table, seating himself upon his own heels, before placing the platter down before them. They were welcomed to grab hold of their own tea with a mere gesture from Arashi. As far as the report, however, he seemed to have only one word.

"
Interesting...
"

Taking a hold of his own prepared tea, he proceeds to take a sip despite the heat of the steam that waffs into his face, and even in the palms of his bare hands, the heat of the cup promotes no signs of irritation, pain, or any form of discomfort for the Lieutenant.

"
This tea is called Aotsuki(Bluemoon) Tea. Its purpose is to improve your senses. Relax the mind, body, and soul. Drink slowly, considerately, let the feeling resonate throughout your being. This subject is a matter of great importance. It should not be taken lightly and requires a clear mind before we proceed.
"

While they participate, Arashi's eyes open, directly gazing toward the small container. Studying its contents, he reminds himself of the valid points that Eizoku made. Indeed, the Dangai is to be monitored 24/7... Do we truly have a traitor among us, or is it simply that the 12 divisions severely lacking on both fronts? First the Kokotsu incident, then a Hollow living within the Dangai, having preyed upon whoever that has traveled through the Dangai pryer to Eizoku's interference, and now this dust... Arashi had to agree, there is something amiss. Raising a single hand, he takes yet another sip of his tea. Two High-Priestess released a Kido that allowed them to bend the light around them and hide. They did not perform this Kido to sneak around or to be nosey, but simply to be the surprise attack in case of a threat, the unsuspecting advantage in battle.

Coming as a surprise to likely to both Eizoku and Jizakai unless the tea served them well in preparing their senses and calming them as a whole, the Priestess quickly raise their hands in the direction of the container, creating a small rectangular barrier around it. With the motion of their hands in sync, they raise their arms, and in tandem, the barrier does with the container in tow. Arashi proceeds to stand, though he leaves his tea on the table.

"
I will make a report of this, and make sure to keep this container concealed as well contained properly within our supervision.
"

His head turns, eyes closing in the precess, but his next bit of words is directed towards Eizoku.

"
Great job on your investigation. You are a promising subordinate and asset to Squad Five. I suggest that you and the men you gathered for the expedition remain in the barracks. I will arrange for all of you to be supervised. Having been exposed to this dust and while we are still unsure of its properties or what it may truly mean or be used for, I'd rather be safe than sorry...
"

His head turns towards Jizakai, directing his next set of words toward him.

"
You will be remaining in Eizoku's company from now until we have this matter sorted or further orders from Captain Oda or me are delivered. Also, you two also have some personal matters to sort out with each other. We can not function if you two are unable to get over your differences towards each other.
"

In his final words, he begins walking toward the exit, and the two priestesses carry the barrier between their beings. Opening the door, Arashi proceeds onward unless at some point he is stopped by either Eizoku or Jizakai. The door would be left open while they exit and eventually disappear from view. Once he was out of range, Arashi reaches within the confines of his own Shihakusho and pulls out his soul phone. He'd make sure to deliver a message to the Head Lieutenant, feeling that this little container may hold information that is far greater than it appears, among other details, he will bring to her attention...
--- " Head Lieutenant Kasumi Fuyuko, Lieutenant Suta Arashi of Squad Five reporting... We recently conducted an investigation into the Dangai, hoping to find answers on how a Hollow was able to reside within the Precipice World, and possibly additional answers on how the Kokotsu was truly able to become free. We discovered an unidentified substance within the Dangai and we were able to contain it within a small container. From what I've been told, it has properties that allow it to resist or completely nullify the properties of the Dangai. However, this is the least of my concerns...
We have come to the agreement that there may be a mole within Squad 12, considering that the Dangai is to be monitored 24/7. While it is likely to have been a past suspicion due to the Kokotosu incident, I fear that this matter has become much worse and could potentially be catastrophic in the future. A hollow found living in the Dangai and this substance is present, it promotes the question of how this Hollow got there and how this substance was dispensed, or rather, by whom.
Currently, I am avoiding any contact with Squad 12, due to the possible chance of a mole being within their ranks. Alerting the individual or individuals may not benefit a solution or feasible outcome. Then again, they may already know... Whether this matter is connected to the Kokotsu incident or not, I am not sure, but I will be keeping the container within the custody of Squad Five Head Quarters. I will monitor it closely, until Captain Oda returns from the game, but should he not, then I will cross that bridge when it comes. Perhaps these details will be valuable to the Commander..." ---
Once the message is sent, Arashi turns his head slightly, nodding towards the two Priestess for them to follow him in haste. All three depart in unison.

From Central to South East Seireitei... Kido Corps Head Quarters.
​