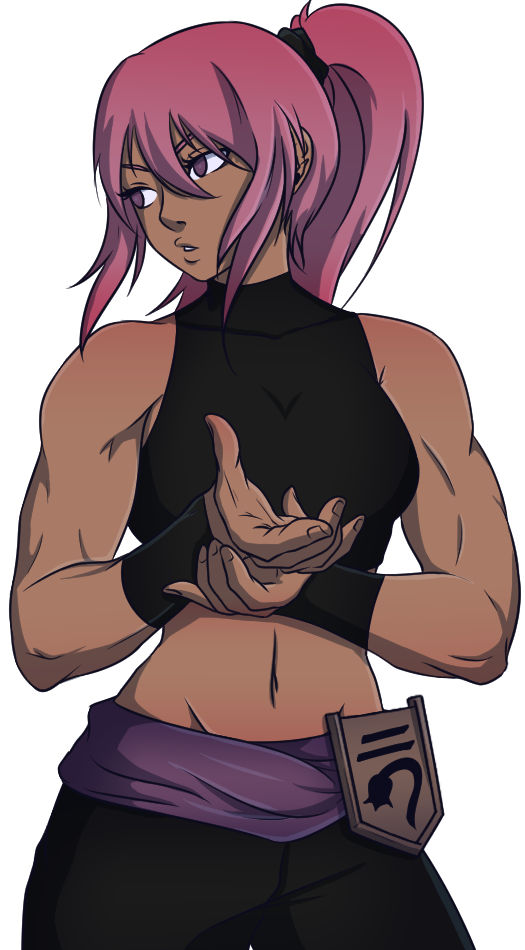 They had asked for her help.
They
asked
, yet the distaste and animosity that filled the room in which she stood in was overwhelming, but it was nothing that she hadn't faced before. Yasu Yūgure, a unit of strength and master assassin, second only to the captain of the Second Division, stands before them in order to help them in their time of need. Yet the members of the Ninth Division gaze upon her as if she was the scum of the Soul Society. While she could not argue with them, having been through two drastic events that painted herself in the worst way possible, they'd called her here because they'd lost their direct superiors and were desperate for assistance to appease the nobles and find the saboteur. Destitute of a guiding hand, Yasu had come to their aid, only to be met like this.
"Do you believe what has been said about me?"
She is met with a sudden spell of confusion but their hardened gazes have returned just as quickly as they'd fallen. Though no word is spoken, it is clear they had said "yes."
A soft sigh escapes through her nose and she puts her hands on her hips. She understood that there was no point in flaunting her position or rank. It would only incite even more friction between herself and those that she was supposed to be helping. While she would have normally turned a blind eye and performed as she always had -- wild and doing things without giving much regard to the other party -- she was unable to do so here. Tensions were thick, and Yasu was stuck between a rock and a hard place. Having been through so much in so little time, Yasu had at least broken out of her child-like shell and forced herself to act more sensibly. This time was no different; she would have to sate both parties as best as she could, or the relationship between the nobles and shinigami would grow even wearier.
The sound of things crashing and tearing echo from the outside of the publication office and she turns to observe the figures that dance through the windows.
"Please continue to work as you have been. I'll handle them outside."
Yasu comes to face the mob that had nearly doubled in size since her arrival. They had all stopped their cries for a moment to set their gazed on her before throwing whatever sticks and stones they could get their hands on and she stands there, taking each and every impact without any plan to move after closing the doors behind her.
"Monster! We don't want to talk to you! We want these lies to cease! You Shinigami have the audacity to ruin my family's name in your stories?"
"S-scum! You dare show your face after the horrors you've committed?"
Their cries continue and Yasu takes their berating with a blank look on her face. Her silence only continues to make them restless but the sight of her becoming covered in the mess that they hailed on her begins to quell them in the slightest fashion. She brushed the locks of hair that frame her face out and behind her ear before clearing her throat and letting out a small chuckle.
"I see. So these rumors that've been spread happen to be true it seems."
There is a collective gasp and just as chaos is to erupt once more, they are stopped in their tracks as there is a sudden weight that befalls upon them, causing many to drop to their knees. Yasu's reiatsu begins to seep through, focused and precise as it affects those that stand before her. It is quick, but the sweat that dribbles down their foreheads from the quick and heavy power surge confirms that they would hold from uttering another word. Just as quickly as it appears, it is gone, and the crowd is left in a daze, eyes falling on the lieutenant as she grabs their attention, albeit in the most ludicrous of ways.
"The Shinigami of the Gotei Thirteen have always considered the nobles to be most respectable, yet those who stand in front of me have behaved in the most unjust ways: throwing things and screaming like children."
Her eyes narrow and she shakes her head, clicking her tongue in distaste.
"If the rumors that have been spread are not true, then truthfully, you have nothing to worry about, right, dearly respected nobles?"
Yasu's purple orbs scan the crowd, watching the discomfort spread in waves. Their uncomfortable shuffling, their shallow breathing, the quickening of their heartbeats are all clear as day to Yasu. The weight of her words are apparent, yet there is still a fiery soul that refuses to back down.
Good. She needed to make an example out of somebody.
"The Shinigami behind those doors are sullying those that are under their protection. How else are we supposed to respond to outright slander?"
Yasu drops down to come to the level of the noble. Closing the distance, he takes a step back, but Yasu's hands are held behind her back.
"You storm the place in which these Shinigami work, interrupt them to spew your grievances and incite riots that prevent them from performing as they should."
With each word, she backs him further and further into the crowd until he stumbles back and onto his behind.
Yasu looms over him…
"If they are unable to work, then these rumors that have been spread are unable to be pinpointed so long as you continue to distract them from performing their duties properly. This Division has been working tirelessly without proper guidance to protect the citizens of the Soul Society and provide proper coverage, and it is you that have only hindered them from clearing these lies that you all are so desperate to rid of…"
Her voice has gotten dangerously low, and the glint of his necklace peeks through from beneath his shirt, temporarily catching her attention before her eyes met his once more.
"It is not my place to interfere with the affairs of nobles, but your actions endanger the lives of Shinigami and citizens like yourself. So long as you continue to obstruct the Shinigami of the Ninth Division and their offices from performing their sworn duties, these actions will not go unpunished if these riots continue."
Apologies would do no good; surely they'd gotten enough of those. Right now, they need to be set straight, in the most clear and concise way as possible. If they could not comply, then everything would be for naught. There was a lingering silence, but they wouldn't dare step over the boundary she had placed in that moment.
The nobles gather themselves and begin to trickle out of the premises, slowly but surely. While she might have settled this half of the problem for the time, the most dreadful part was weeding out the rat that had caused all this trouble in the first place. The Ninth Division was full of prideful individuals, and just as carefree as her, if not more. With who they had as a captain and a lieutenant, their attitudes had changed drastically upon the disappearance of their superiors. They were lost, and without someone to guide them, they would only continue to dwindle even further. This saboteur would only run them even deeper into the ground. Yasu understood, truly, and while she had help, it was the least that she could provide, even if they hated her.
Yasu is faced with silence, outside of the occasional clicking and rustling of papers as the members of Ninth within the publishing office worked in silence for the first time since the protests began. They offer no recognition to their help, but Yasu expects this. She'd rid of one half of the problem for the time being, but there was no telling as to when the mob would return. She needed to find the problem within their ranks as soon as she possibly could. Yasu releases a curt whistle and before her are two figures clad in black with their heads bowed low.
"Get me a list of all Ninth's journalists that have come into contact with the nobles at the start of the protests and the backgrounds of their publicists, along with records of every noble and Shinigami in attendance of today's gathering."
"Understood."
And they were gone without a trace. Knowing that those in the Ninth Division would refuse to work with her, Yasu was completely left to her own devices. Being second-in-command of the Onmitsukidō had meant that she was in charge of the patrol corps, and those under her jurisdiction were tasked with gathering information within the Seireitei. While most information would normally be related to potential uprisings, Yasu saw it as a necessity to find the root of this ordeal. Nobles wouldn't act out so rashly if these rumors weren't true. The fear of being exposed would cause anyone at risk to gather like sheep and create a force that would capture their opposition's attention. Many of these claims are oddly specific to target these high-ranking families. There is a good chance that one of these individuals are working
with
a noble to create discord within the Shinigami and Noble factions.
Yet as she gazed through the windows of the publishing office, Yasu could find nothing out of place. Every individual was working soundly and tirelessly to complete their objectives. She scratched her head out of frustration and the chiding of her inner devil had not helped in the slightest. Pacing back and forth, the lieutenant had managed to snap out of her daze upon the reappearance of her subordinates that carried the necessary documents and records of all that she had requested. A quick word of thanks, and again, they had left as if they had never existed. The rumors that had circulated were oddly targeting those of the four noble houses, and sparingly a handful of the lower noble houses. The Shihōin had a handful of micro transgressions, unlike the pile of claims under the Kuchiki name, but the ordeal with Shirogane Kuchiki had compiled up quite heftily. Yasu could say that she was impressed as to who had been able to reveal such information, rumored or not. She doubted that the Kuchiki would be risking sabotage at the risk of dirtying their family name even more.
"Unless the saboteur
is
a noble..."
As she continued flitting through the pages, there'd been an inconsistency. Compared to that of the other noble houses, the Tsunayashiro had yet to be targeted as much as the other noble houses. Like the Kuchiki, their particular specialties and objectives lied in records and surveillance. While the Kuchiki were essentially made to protect these records, those of the Tsunayashiro were tasked in gathering said information to be recorded. Many of their clansmen had divided to be a part of the Second Division's reconnaissance unit but it wouldn't be too farfetched that few would join the Ninth Division. They'd have made a great deal in these sorts of records. Destroying the images of the great families would be beneficial to those beneath them.
Her attention turned to the list of nobles in attendance and the names of the journalists.
"Fēng... Kira... Kyōraku... No Tsunayashiro in attendance, but--"
Yasu's nimble fingers peeled the page that had held the image of the absentee in today's lineup within the publishing office. His attendance was significantly lower than his peers dating back to the first mishap regarding the Communication Column.
"Tsunayashiro Asahi. The consequences of your actions have caught up to you."
"What is the meaning of this!? You have no right! My family--"
The pair of Shinigami who'd gathered Yasu's requested materials had retrieved the main suspect, now placed in a pair of Reiryoku-sealing cuffs and brought into a seemingly empty room.
He'd been cut off with a series of papers flapping into his face. Holding them was Yasu Yūgure, a smile plastered on her face but it didn't reach her eyes. In these papers were records showing the records of access to the historical archive and most recent plights, along with recorded times of his work and subject relations. While the claims of these alleged rumors were deemed ridiculous, a good amount held some merit with the amount of affected nobles coming to destroy the publishing office. Those rumors could've ruined many of these honorable nobles and their businesses had it spread far and wide throughout the Soul Society. Had these gotten out, many reputable statuses would crumble, and the support system of the Thirteen Court Guard squads would begin to tear itself from the inside out. If one we're so unhappy with their current outcome, then wiping their slate completely clean would generally be the last path to take, even if it meant taking the lives of innocents.
"That's right, Tsunayashiro-san. Your family.~"
She spoke in a singing-tone and paced around.
"I liked that little inciter you paid for today. Unfortunately for you, he blabbed the moment he found out he was able to save his own skin just to rat you out."
Dropping down into a squat, Yasu was now at eye-level with the man, reaching around with her freehand to dig in her pants pocket to find the pendant that once hung from that individuals neck that had tried to incite more violence against her. The golden trinket, with the insignia of the Tsunayashiro clan embedded in its core stared back at its rightful owner.
"It just wasn't your luck that he ran into me today."
Yasu vaguely recalls the time in the Rukongai that she was nearly mugged and murdered by a man that had preyed on her innocent act. This situation was not much different. Out of all the nobles that had stood before her, his rat's anger was false. While the composition of the soul is not exactly matched to that of a human, it is difficult to fake true rage. In fact, he'd been enjoying himself, up until the point of confrontation. Perhaps it was him that had spread these rumors, but he had not created them.
"This isn't just! You've kidnapped me because of someone else's words? He could have been paid to lie! I'll have your fucking rank for this--"
The man before her dared to play on her position and performance. The slam of the palm of her hand against the wall in which he'd backed up against him had him swallowing his next words. Yasu's gaze is haunting, and he trembles from the display of raw strength as the wall near his head crumbles under her gracious touch.
"Abandonment of your post, deceiving your higher-ranking officers, obstruction of a government office, inciting riots, endangering the lives of your comrades -- these are just a few of your discrepancies that have placed the functions of the Soul Society and the Gotei Thirteen at risk."
Most would forget that Yasu had to have climbed the ranks in order to get to her current position as lieutenant. By climbing through each and every rank before that had allowed for Yasu to develop and polish her skills, especially during her time in the Detention Unit. Under the direct hand of the Commander-in-Chief would mean that Yasu had dealt in many missions that resulted in violent ends Intimidation was one thing, but carrying out her promises -- while fully capable -- was something she held back the most.
"These actions have deemed you unfit and be considered a dangerous element to the Soul Society."
Yasu hated people like him the most. So much bark and so little bite, he performed as he did for selfish purposes with little regard of those that would fall due to his dastardly ways. He mimicked Shirogane Kuchiki so much that it made Yasu sick to her stomach. The complete ignorance of the lives that were to be destroyed from his tactless actions was only the beginning of what could have been. Retreating from Tsunayashiro Asahi, her subordinates were quick to take him from her presence with a wave of her hand. Into the Nest of Maggots he would go, and no one knew just how long he would stay there.
For good measure, Yasu had lurked around the publications office for confirmation on her arrest for the next few days. The nobles seemed to have received her message well when she had first arrived. While they were sated, the production of Ninth's office was steady now that they had no distractions, and the publications of the magazines themselves had proven to be untampered with. She flips through the pages of the newest release, finding a special edition aptitude test inside. Tearing open the wrapper to her favorite chocolate bar, she giggled in glee as she filled out the questionnaire.

Last edited by a moderator: