Administrator
Staff member


Fading Reflections
Ochitsuki is riddled with highly condensed Kunai, his body falling to the ground lifeless. The Kuchiki girl standing tall over his corpse, as the ground parts, his form sinking into the floor. The girl gives him a final farewell, one that she believes is unfit for the deranged man and she is correct. Ochitsuki deserves no farewell's, if not guided by his family or the Gotei Thirteen he would have surely been nothing more than a Rukongai murderer. There is no light to be seen in his intentions…
"Rest now, Ochitsuki Oda. May you find peace when you return to us."
Reflected in her eyes is the ground closing up around Ochitsuki's body followed by a slow solemn blink that covers her world in darkness. Upon opening them she feels tears running down her face, these are not for Ochitsuki, no, these are for herself. The reality she sought fades around her as the neurons in her brain begin to slow, reflected in her eyes is not the gravesite of the deranged man but the man himself, standing over her. Her head severed from her lifeless body staring back at her killer. This haunting image could wound the soul of another, make them think and wonder how or why they could hurt a soul like this, one that seemed to be kind. But for this man he cares little for these sentiments, there is nothing that can wound his soul on an emotional level. He is but a vessel for the spirit of violence more so than anyone else in his clan.
He turns away from the body and takes a few paces before a member of his division appears before him, kneeling. It is clear they cannot leave the body here and with her being of Kuchiki blood it means they cannot merely bury her here. Ochitsuki knows this much.
"Clean up the body and return it to the family."
Ochi refers to the body as an it, from his perspective once someone dies they become nothing more than rotting meat. There is no sense in referring to it as a person when it can no longer produce thought. This will be the second time the Oda have laid hands upon the Kuchiki family and claimed a life from them. Disgraced as they may be there may come a time where this comes back to bite them. But in their current state and their dwindled numbers what sort of threat can these nobles, who keep their noses upturned to the sky, pose to the warrior clan? Only time will tell, but as for right now Ochitsuki sets out to find his captain and properly report the results of his mission to him.
---
Ochitsuki tracks the pair of Kyomu and Himari, taking the same path as them via following trace amounts of their Reiatsu. Like a strand of spider silk dancing in the sunlight their trail can easily be missed by most who don't know what they are searching for. Following this strand he begins to spot towering trees in the distance. He stops just outside of them, peering into the darkness they cast with their size. This darkness does not welcome him. He was not invited and he knows well the crime for intruding onto grounds he was not welcomed upon and so he removes his zanpakuto from his back, holding it in his hand and rests against a tree. He stares back out in the direction he came from as the assumptions finally became fact in that meeting. Kyomu seeks to raise that girl to be a powerful warrior. She will block his path, his goal…
Focusing so deeply on this thought he slips into Jinzen
(刃禅, Sword Meditation; Viz "Sword Zen")
meeting with someone, someone whose name he has not called in quite some time…
Saryū
(砂粒, Grain of sand)
Winding Maze…
Ochitsuki finds himself resting against one of the pale walls of the Seireitei, the sky above is dark and fog enshrouded the area. Despite being in a forest mere moments ago he does not seem alarmed by this new change of scenery. The fog around him parts, clearing up and it is then that he senses something is odd and amiss. Saryū typically forces him to find her amidst this maze and fog but to clear the view for him so easily strikes him as odd. Before he can think of a reason why he is suddenly grabbed from behind, or rather hugged. He is clearly taken off guard by this act as Saryū even shouts his name, welcoming him. She lets go and hops back, standing on the wall Ochi was once resting on.
A Reunion!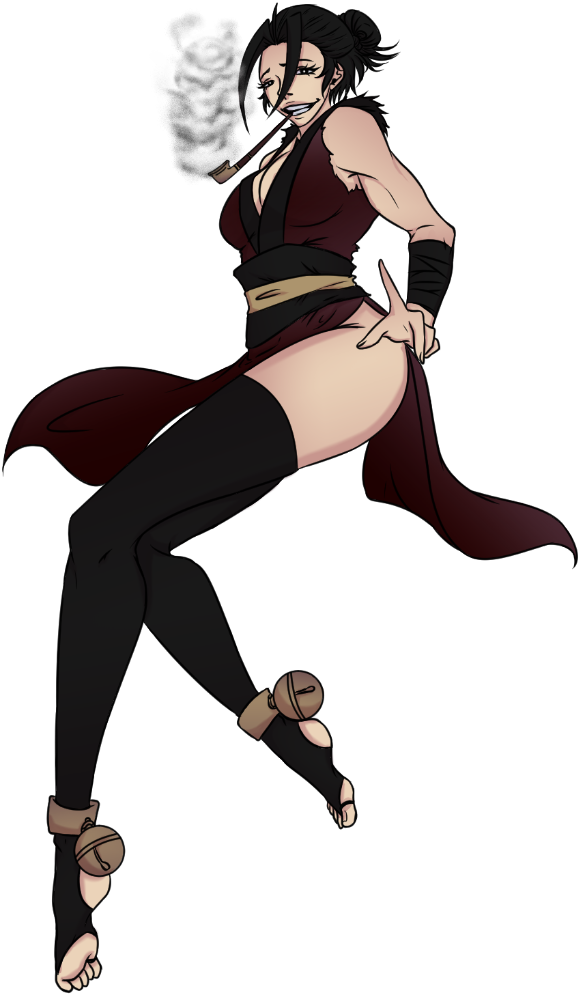 "Ochi! Long time no see kid! And here I thought I was never going to hear from you! Let alone see you!"
"I… Yeah… It's been a while."
Saryū sits down on the wall, resting her chin on her fist, she can tell that Ochi came here by accident and that honestly hurt her deeply. She was so happy and ecstatic to see him and yet it seems and feels like he'd rather just leave. She hides the pain and carries on as if nothing is wrong.
"So, what brings ya here, kid? Figured you showed up to ask me somethin'"
At no point does she remove the pipe from her mouth to dump ashes, whatever is in that pipe is emitting black smoke or is that dust?
"No, I- Actually… I have to know, when will you allow me to use Bankai? If I don't acquire it soon I'll miss my chance of killing the Captain directly and-"
"NO DEAL!"
She cuts him off, out right denying his question.
"I haven't seen or heard from you in ages and the first thing you ask about is Bankai!? To kill your Captain because you think that girl is going to get in your way and stop you!?"
Ochi says nothing, Saryū calls him out directly on what he was trying to accomplish.
"Hypothetical time kid! You get Bankai, you get strong and you kill your captain! Congrats, you killed the one man you aimed to kill, now what?"
"What do you mean, 'now what'?"
She sighs and hops off of the wall, walking up to the young man and punching him on top of his head. He crouches down holding his head as blood trickles down his face slowly.
"What do you do after you kill him!? Going to live life? Maybe taking up farming? Or are you going to take his place and become a Captain because you and I both know you don't care about being captain!"
A Plea For Companionship
She goes silent, the attitude in her voice fading away completely as she speaks her next words.
"And if you do kill him will you be done with me too? I mean, you won't have a need for my power anymore, you accomplished your goal. If you kill him will that mean I will never see or hear from you again, Ochi?"
Ochitsuki looks up at her, not saying a word but starts to deduce that the reason she never granted him Bankai is so that he can keep coming back here. A bond between Shinigami and Zanpakuto is a special thing, when the two are in perfect harmony they become a powerful force to be reckoned with. However, if there is no harmony both Shinigami and Zanpakuto stunt their own power. Ochitsuki, unlike his cousin, does not understand this. To him Saryū is a weapon, gaining access to Shikai and Bankai is just gaining access to a new weapon for him. He finds this whole sword spirit thing to be complicated and annoying, if she didn't block his path to his weapon's potential then he could be so much stronger. He fails to realize and understand that Saryū
is
his weapon.
"I will call upon the power of my weapon when I need it and only when I need it. There is no reason to do any more than that, if I'm not fighting, what reason would I have to talk to you?"
"What reason? Ochi! I'm more than just a sword! Even I get lonely in this empty world!"
"Then pick up a hobby and stop barring me from Bankai."
And just like that Ochitsuki is gone from his inner world without letting Saryū speak another word to him. The fog starts to close in on this maze of a world with Saryū vanishing into the fog, speaking to no one but the emptiness of this world.
"And you wonder why I hide from you…"
Back in reality Ochitsuki opens his eyes, blood trickling from his head. He frowns as it feels like his goal is even further away than it originally was. Despite all the "whining", as he views it, Saryū put up one thing that she said stuck out to him. If he kills Kyomu what will he do then? Will his drive and ambition shut down then and there? Will he waste away and allow his death to come without a fight all because he lacks motivation to do anything else? His eyes shift over to his Zanpakuto that is in his hand, holding it by the sheath. What was she trying to say exactly and why didn't she just spit it out? Was she trying to tell Ochitsuki to find a new goal in life, a new form of motivation? He'll never know because as of right now he refuses to ask her.

---