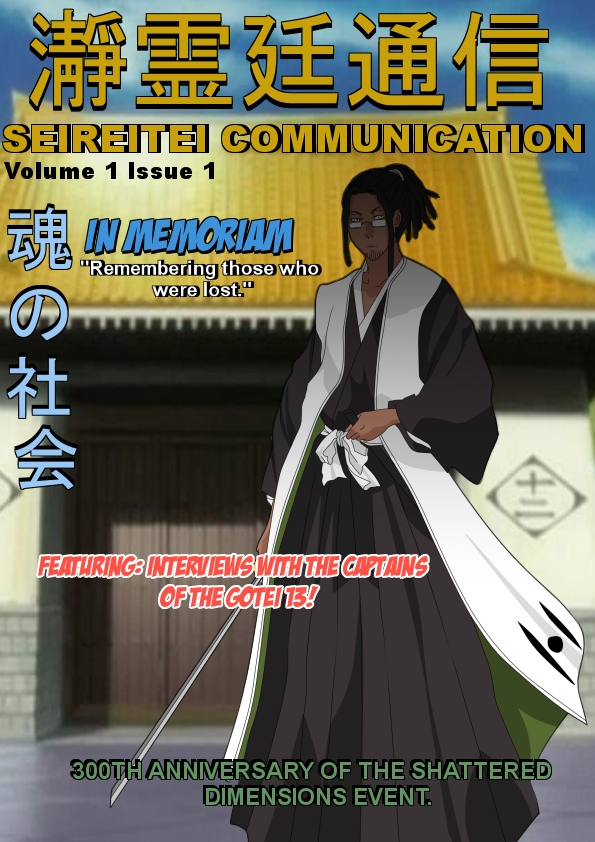 In Memoriam
"Remembering those who were lost"
Article by Otsukai Mayakasu
Three hundred years ago tragedy struck the Seireitei, in what has become known as the Shattered Dimensions Event. For three centuries now, we have experienced nothing but peace, not a single conflict has befallen the Seireitei, and the influx of souls into Soul Society has never been more balanced. In all this time, new souls have been born, and younger Shinigami have been brought up into the Gotei Thirteen without any recollection or knowledge of the event that still haunts many of us today. On this day, the anniversary of the deaths of so many brave Shinigami, the Seireitei Communication would like to honor those who were lost, and hopes to remind those that have forgotten of what transpired so long ago.
It started with a crack. A fissure in the atmosphere over the Fourth Division barracks. No seals or barriers had been passed through, and no alerts had gone out. Perhaps this is what sealed the fate of its first victim, Fourth Division Captain Camilla Kuchiki. Who was conducting another of her routine medical tests when the fissure shattered open completely and pulled the Captain inside. Her Lieutenant, Hikoto Shihoin, attempted to pursue her but the fissure closed, seemingly repairing itself, before it disappeared completely.
What had started as a bad omen had turned into a full fledged crisis. Captain Commander Kashuke declared a state of emergency and appointed the Twelfth Division Captain Shousan Oramano in charge of locating Captain Kuchiki. With their attention now on these fissures the Twelfth Division come up with some interesting information. It wasn't simply the Seireitei that had experienced a shattered abduction. Hollows, Humans, and Quincy were all disappearing at an alarming rate from their own respective dimensions. Further, there were strange readings of an influx of traffic through the Dangai, with a Kōtotsu even appearing in the human world! Hollows, Humans, Quincy, and even Shinigami were reported to suddenly appear within the Rukongai district, seemingly displaced from their respective dimensions, and even from time itself.
It was clear that the fissures within Soul Society were not an isolated incident, but an existence wide event. Still, rescuing Captain Kuchiki remained top priority. In doing so perhaps we shinigami hoped to obtain some knowledge on what was occurring. Perhaps we thought Captain Kuchiki could give an account of what happened, and provide any sort of insight. We certainly could not have anticipated what
would
happen.
Through a new device developed by Captain Oramano, the 12th division was able to triangulate when and where the fissure had taken Captain Kuchiki. I wasn't even a seated member yet when all this occurred, but I remember the look on my Captains face when the result came in. Captain Kuchiki had been sent to Hell.
There was no time to waste. The atmosphere of Hell is toxic, even powerful Captain-class Shinigami will eventually fall subject to it, and develop binding hell-chains of their own. Once the Chains of Hell have been placed upon a Shinigami, they can never be broken, and the Shinigami's soul will remain bound there for eternity. This was an emergency that needed to be acted upon quickly.
Captain Commander Kashuke gathered the Captains of the Gotei Thirteen, along with some specially selected Shinigami. Their mission was to break into hell through one of the Hell Gates, and retrieve Captain Kuchiki at all costs. This in itself proved a difficult task, requiring the combined force of all the captains to shatter the chains of the gate, allowing them to enter. Once the final Captain set foot through the gate, it suddenly repaired itself, sealing behind them, and trapping them in hell for eternity.
We don't know what happened after the Captains entered Hell, other than after three days, the fissures stopped, and the dimensions seemed to stabilize. Was the entire event a trap? We may never know. What we do know is the only Captain to remain behind fled immediately after the others were sealed away. Captain Shousan Oramano. Who remains missing to this day.
The Seireitei changed after that. Seeking to fill the void of power that came with losing not only our Captains, but the Captain Commander as well, the Central Forty Six took drastic measures. They freed the first prisoner to ever be sealed within the Central Underground Prison, and the very reason the Muken was created, Shobatsu Murasaki. After the combined forces of the Seiretti couldn't budge him from the Head Captain's seat, he declared himself Captain Commander, and has remained in the position ever since.
Commander Shobatsu inherited quite the mess. Seireitei's lack of power had thrown the balance of souls into turmoil. Noticing this, Commander Shobatsu's first act as Head Captain was to single-handedly halve the population of Hueco Mundo. Now, for the past three hundred years, all races have been regaining their strength, the Quincy still from their Thousand Year Blood War, the Hollows from the Shinigami Genocide, and us, the Shinigami, from the Shattered Dimensions Event.
Still, despite our tragic and bloody past, we seem to have returned to an era of peace. New shinigami have risen to the challenge, with powerful members of the Gotei Thirteen coming out of the woodwork and becoming Captains. Those raised in this era of peace would be hard pressed to remember a time without it. Let us hope that these spring-time shinigami never forget the sacrifice that has brought us here. Let us
all
remember those who were lost.
Asura
, of the Fifth Division.
Dai Orasuke
, of the Thirteenth Division
Lieutenant Hikoto Shihoin
, of the Fourth Division
Captain Hikifune
, of the Sixth Division
Captain Jury
, of the Third Division
Captain Commander Kashuke Shunkan
, of the First Division
Captain Nanami Masahiro
, of the Thirteenth Division
Lieutenant Noumi
, of the Twelfth Division
Shikei Tesak
, of the Third Division
Yugen Kagam
i, of the Eleventh Division

Interviews with the Gotei 13!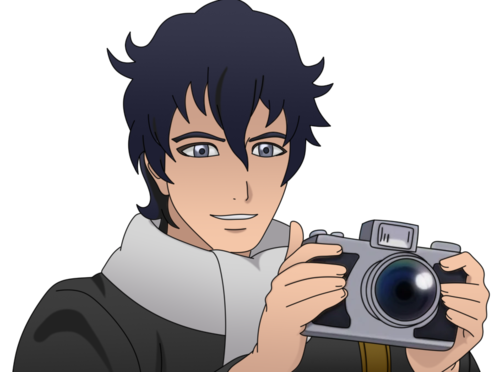 Recently I got to sit down, and in one case, stand, with some of the Division Heads of the Gotei Thirteen, including Captain Higen Kagayaki, Captain Kyomu Mukuro, and Head Lieutenant Honoka Oki! In this memorial Issue, we discuss the pressures of being a Captain in the aftermath of the Shattered Dimensions, what it was like to live through that tragic time, what hopes there are for the future of the Seireitei, and what messages should be shared with interested Shinigami!
My first interview is with Captain Higen Kagayaki. A robust man, I immediately get a sense of the power radiating off him as I enter the room. He sits casually, not a concern in the world on his mind. As I take a seat, I can feel his glance size me up, and can tell he doesn't think much of me.
"Thank you for having me Captain Higen."
No, that's not quite right, rather, I can tell that I don't bear any significance to him. I'm surprised he even accepted to meet with me.
"Lieutenant Kasumi insisted, so direct your thanks to her." He responds rather adamantly.
I fumble awkwardly to get out my pen and paper. Something about the Captain's presence makes me want to retreat into myself. I know he could crush me with a glance. Nervous, I look to meet his stare, only to find him waiting patiently for my response. I chuckle to try and relieve the tension, as I take out my camera.
"I will, thank you."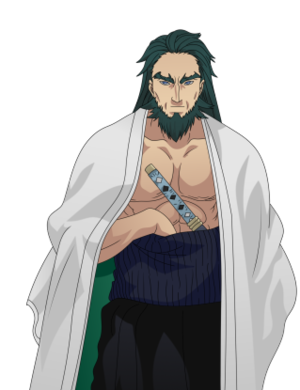 Q:
"Captain Higen, you were around during the Shattered Dimensions Event, is that true?"
The small bit of lightheartedness in the Captain, if there were any really to begin with, immediately fades. A disgruntled and focused look grows upon his face.
A:
"Unfortunately so."
Q:
"What was it like, living through such a tragedy, and being around to see the aftermath?"
His orbs of sapphire dart towards the ceiling, clearly trying to conjure up memories buried beneath fields of clutter.
A:
"It was.. odd. No one knows what it's like- Well, no one who wasn't there to experience it, that is. They don't know what it's like to have a world of stability.. to have a routine, and to have it quite literally shattered into pieces. I had no personal relationships with any of the Captains at the time, only respect. I was just recently appointed the Fifth Seat of Division One at the time. Sou-Taichou Shunkan was like a ghost, and I had only received this promotion through recommendation from some of my other superiors. Watching all the Captains meet their end wasn't difficult for me personally, as horrible as that may sound. It was the aftermath.. yeah. The chaos.. the rioting, the lack of order. I see those fires, still. When Sou-Taichou Shobatsu was initially released Ninety percent of us were against it. I challenged him- no, we all challenged him. It was a mistake. He has power beyond comprehension. It goes unchecked, it goes unchallenged, as it should remain. We owe him for the order that was returned to us, despite the sacrifices made to bring it about."
Q:
"You served as Lieutenant to Commander Shobatsu, is that correct?"
A:
"I did, for over a century. A cumbersome job. Wait, will he read this? You can take that last part out."
Q:
"Did you have any reservations, given the Commander's history? Where you present when he passed judgement onto Hueco Mundo?"
A:
"It's interesting that you bring that up. That very moment.. when that judgement was passed. That was when whatever reservations I had went away. If you'd seen what I saw, yours would have to. His history wasn't the source of those reservations though. I have a thick enough past to know not to judge someone by theirs. It was the manner in which things came about. It felt like a hostile takeover, initially. In many ways, a lot of people still see it as such, however no one would dare speak on it. The old man admires power. Not power as in, power that needs to always to be used or taken advantage of, but power as in literal strength. This military requires this strength, and he knew that. He saw that strength in me, that's how I got the job.. it's also how I got my current one. I knew it best to not read into it more than that."
Q:
"That's right. You were promoted to Captain of the Tenth Division rather unexpectedly. Is it true you were hesitant to accept the title?"
A:
"I never wanted to be a Captain. Wasn't in the plans. I liked serving the old man, as difficult as it may have been. I thought I found my niche; he clearly felt otherwise. I'm not even sure I'd call myself a good Captain, you'd have to ask the unfortunate souls walking around here. Being a Captain is boring.. A hundred and Fifty years ago I was a man of excitement.. of Vigor! Now look at me. I sit in this very chair probably more than you lay in your bed."
Q:
"Ah. What hopes do you have for the future of the Seireitei? Do you have any message for those Shinigami looking to join tenth division?"
A:
"Hopes.. I hope everything stays exactly the way it is for at least a little more. I've been sitting on my ass so long, and although I complain about that.. I know I'm gonna wish for a back when everything goes to shit again.. It's only a matter of time. If anyone wants to join the Tenth Division out there. Be prepared to consistently feel inferior every time I walk by! You have no choice! If you're not a hard worker turn the other cheek. Only the strong are allowed here."
With our interview at its end, I pack up my equipment. Making sure to look the Captain Higen in the eyes as I thank him for his time.
Unblinking, he responds "If you find a way to give it back, let me know." he pauses for a moment, as if awaiting a laugh from me, and immediately clears his throat upon not receiving one "Ahem. Anytime."
He stands up, and shakes my hand. I of course reciprocate the gesture, and feel the Captain slip me a piece of paper. As he leaves the room, I unfold it, only to see large hand written letters reading "Print Me". I flip it over and give the thing a read, cursing the conversation I'm going to have to have with my editor.
I was able to catch Captain Kyomu Mukuro in passing. Well, I wouldn't say catch is the right word, more so, the Captain let himself be revealed to me. I quickly asked for an interview before the wisp of a man disappeared once more into the wind. His response? "Ask your questions, and be done with it."
We step inside the adjacent building, I'm not sure if it belongs to the Second Division, or the Captain's noble family. I'm not sure it belongs to the Captain at all, but the confidence with which he enters puts my mind at ease. I look around for a chair, or anything, to offer the Captain, but there are none. He looks at me, unblinking, as my head darts around the room. I guess we're meant to stand.
"Thank you for having me, Captain Kyomu."
I realize my mistake right away, as the usually expressionless Captain closes his eyes and crosses his arms at my thanks.
"Tch, it's Captain Mukuro to you. Don't call me by my name so lightly."
I try and keep as calm a demeanor as I can, careful to pull out my pen and paper with the least noise possible and the utmost precision. He notices my camera, but doesn't say anything. The fact he's still holding his position tells me something. I'm a journalist after all, even with the Captain of the 2nd division, I can still read between the lines.
"Of course Sir, my apologies."
As I'm quick to apologize, I also snap a photo for the magazine. Holding my breath, I await the Captain's response. It seems I read right, since as soon as I put the camera away he breaks his pose.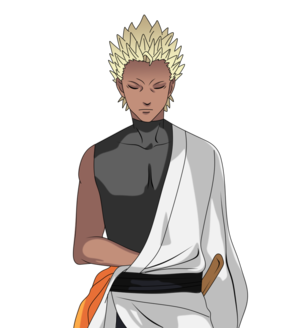 Q:
"Captain Mukuro, you are one of the youngest Shinigami to rise to Captainhood following the Shattered Dimensions event. What was it like becoming a Captain during such a time?"
A:
"It was a mess. I'm not sure what my predecessor had been doing, but the Stealth Squad was a total mess. It really was a pain, whipping them into shape. It was like teaching someone to walk, who was convinced they've been running..while really doing nothing but crawling along the ground all this time."
Q:
"Did you experience any pressure, having to fill the shoes of the previous Captain?"
A:
"Pressure? Only someone lacking ability would be daunted by such a thing."
Q:
"Then how would you say your Division has changed since the Shattered Dimensions event and your achieving Captaincy? How would you say Seireitei has changed?"
A:
"My Squad has obviously become the best Division within the Seireitei, of that there can be no doubt. As for the Seireitei, I suppose those who are playing dress up will learn what it truly means to be a Shinigami when this ephemeral peace comes to its end."
Q:
"You're saying you don't believe this peace will last?"
Captain Mukuro sighs, reclining into his seat, eyes closed for but several moments. Then, his eyes opened halfway to peer towards me, incredulity reflected within his gaze.
A:
"Peace is never eternal. So long as Hollows exist, so long as they feast upon Humans..so long as Quincy destroy them and harbor a grudge towards us, and so long as opinions differ, peace will never last. It has always been a temporary reprieve, it has always been the enemy of memory..."
His eyes close once more as he shrugs.
"Anyone counting or hoping for it to last, is but a fool hoping for the impossible."
Q:
"I see. What are your hopes for the future of the Seireitei? Do you have any message to those Shinigami seeking to join Second division?"
A:
"I hope...at the very least, those bearing the title Captain will prepare their respective squads for what's to come. For those seeking to join Second Division, be prepared to work hard, train hard and cast aside those shackles called morality and honor. You will have no need for them here."
There is a silence between us. Suddenly the emptiness of the room has a weight, and it feels as though it's closing in on me. The Captain stares at me, like a viper waiting for its prey to make its next move. No more questions come to mind.
"Thank you for your time, Captain Mukuro."
"Hnn" The Captain responds, well not so much responding to me as much as dismissing me. He turns, only to fade from the room altogether, a wisp in the wind, leaving me alone with myself, alone with my thoughts.
Even before it starts, my next interview has me more nervous than either of the others. I submitted a request to interview Captain Commander Shobatsu Murasaki to the First Division. Of course I knew the request would be intercepted, and would never garner the Commander's attention. Still, after a series of bureaucratic back and forth, I was slowly able to work my way up the ladder, and land an interview with Lieutenant Honoka Oki herself!
When I arrived at the First Division barracks, Lieutenant Honoka had already prepared tea in her private office. The First Division Barracks are so large, their expansive buildings always seem so vacant, leaving you isolated with your self-doubt. Not the Lieutenant's office. Its welcoming atmosphere fits her own welcoming expression.
"You're a hard person to reach, Lieutenant Honoka. Thank you for seeing me."
I expect a serious answer, the First Division always seem so serious from the outside. Instead, she chuckles as she pours two cups of tea.
"I can only imagine! Thank you for considering me for your interview. Let's get started then?"
She hands me one, and I'm taken aback by the feeling of unfiltered kindness that washes over me. It's almost too much, I could get lost in her company, but I know that closed lipped smile only hides fangs. This is a woman whose power is said to rival that of a Captain after all.
"Yes of course."
I try not to stutter as I speak, reaching for my camera. I find myself staring for a little too long before I finally snap out of her gaze and take a photo.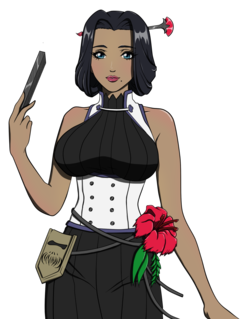 Q:
"We were unable to reach Commander Shobatsu for an interview. Why do you believe that is?"
Her friendly demeanor doesn't change, or evaporate. It pauses. Her expression freezes, her smile more ominous than before. For a moment I think time has stopped, but the trail of steam coming from our cups tells me otherwise.
"...Lieutenant Honoka?"
A:
"Right, forgive my absentmindedness. I'm sure you can relate, with a million things to do."
She lets out another chuckle, a genuine laugh that makes me feel like I'm floating. Before taking a long sip of her tea.
"I wish I knew, really. He seldom takes time out of his day for anything fun. I hope to change that!"
Q:
"I see, thank you. Lieutenant, you were alive during the Shattered Dimensions Event, is that correct? What was it like living through such a time?
A:
"It was truly unsettling, to be frank. In all my years, I hadn't come across such a situation where so many seats went missing. The entire chain of command was a complete mess."
She sighs, setting down her cup. She stares at the tea leaves bobbing in the amber liquid, and never picks it up again.
"But now that Captain Commander took the reigns, we've come back stronger."
Q:
"You have been Head Lieutenant for over a century . What are some of the pressures of running the First Division? Do you ever have any reservations serving the Commander, given his history?"
A:
"Wow, time flies, doesn't it? All jobs come with their pressures, it's no different than running any other division. Not at all; everyone has a smudge of their own."
Q:
"How would you say your division has changed since the Shattered Dimensions event, and your being promoted to Lieutenant? How would you say the Seireitei has changed?"
A:
"I can't say for sure, this is all I've known since I was transferred to First Division. As for the Seireitei, I'm sure you don't need me to reiterate all we've shown. Everyone works together now, it's a true breath of fresh air."
Q:
"Thank you. Ma'am, before we go, what hopes do you have for the future of the Soul Society? Do you have a message for any hopeful Shinigami looking to join the First Division?"
A:
"I certainly hope our peaceful times don't end, and should something threaten it, then I hope I'm right in thinking we're strong enough to stop it! Don't waver and surpass your limits! Hard work and dedication truly make a difference! Even if you don't see the change immediately, you're stronger than when you started your journey, so continue forward. Captain Commander and I will be waiting to see your strength besides ours!"
There's a smile on my face and I don't remember when it got there. After just one conversation with the Lieutenant, I feel like we have been life long friends. I can see myself following her into battle, and am glad the Lieutenants of the Gotei Thirteen get to have her in charge.
"Inspiring words. It's been a pleasure ma'am, thank you again for your time."
As though on que, the door to her office slams open, and four Shinigami of the First Division rush in. The say no words, but their message is clear. Time to go. Lieutenant Honoka's expression never changes, her alluring smile as welcoming and wholesome as ever. She doesn't move when she dismisses me, giving some final words.
"'Thank you, it was quite fun."
I find myself unable to look away from her while I'm escorted out of the building.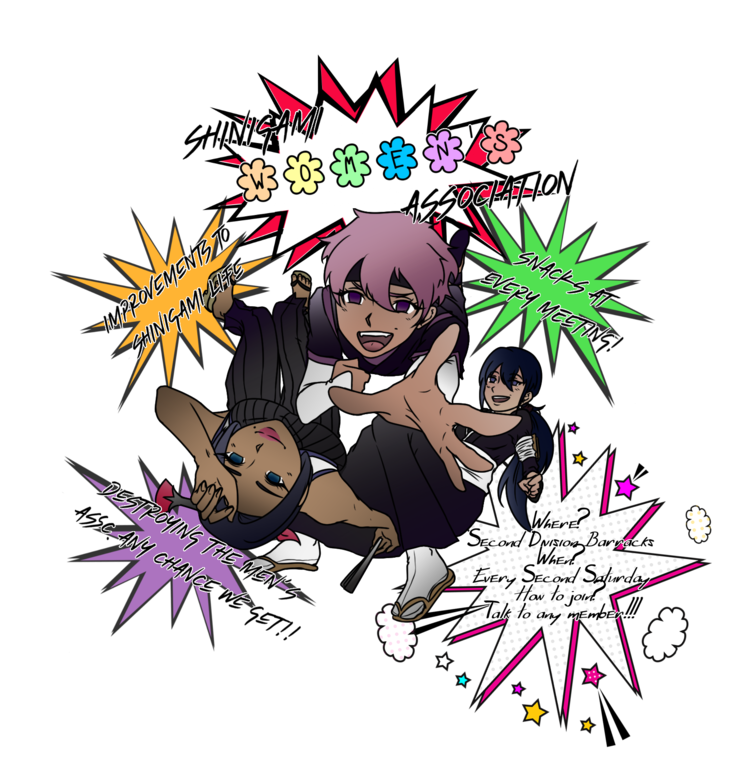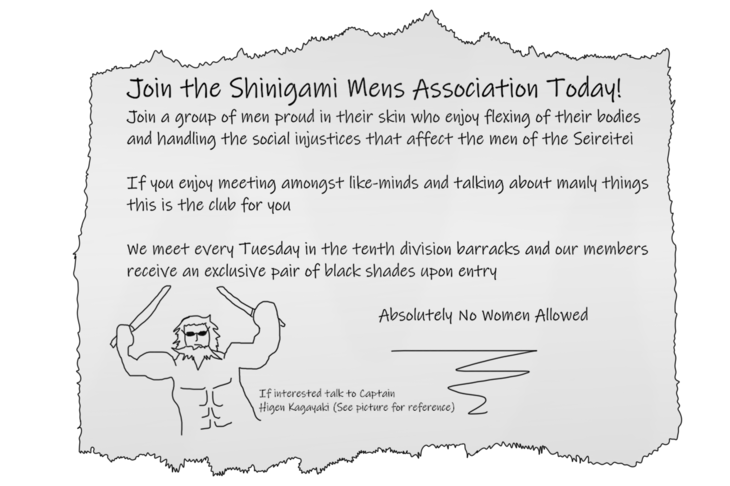 Last edited by a moderator: